This book includes mostly contemporary photos of this car to illustrate

the overall appearance and the details inside and out of this unique car.

This book is a reference guide for modelers and railfans to this car.

This book has 54 pages with113 B&W photos,

This book is spiral bound so it lays flat and has heavy duty, full cover, paper covers and is

8 1/2" tall and 5 1/2" wide.

Sample pages are below.

MSRP $17.99 + s&h

(all shipped via USPS Priority Mail)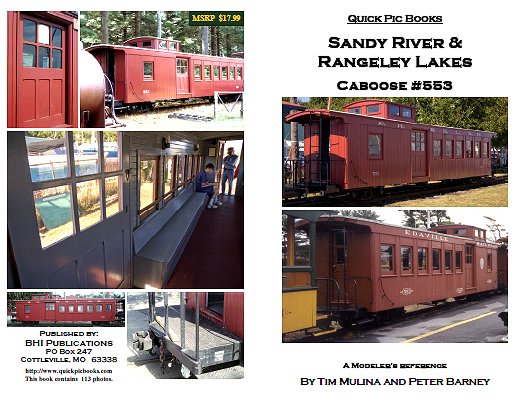 Below are a sampling of pages from the book. Just click

on a page and they will expand with a menu at the top.

Because of the actual USPS shipping costs, we highly recommend getting more than 1 book/title at a time. If there is no "Add-To-Cart" button on a specific title's webpage, contact us directly at:   sales@bhipubs.com

to add any of them to your order.

Sandy River & Rangeley Lakes

Caboose #553 Quick Pic Book

We have a number of laminated bookmarks & 2"x3 1/2"magnets available on Maine 2' railroads and the towns around them.

Here are links directly to some of those webpages:

Bookmarks