Rolling Stock

Modern Freight Car Tops

Our Quick Pic Book series shows the subjects in extensive black & white

photographs which have often been digitally edited to best exhibit the details.

This book shows the details of the roofs of a number of styles of cars. It is intended to help modelers and fans see what is rarely seen except from a car going over the tracks. Each car type has a chapter with a number of examples within it.

The car types included in this book are: Boxcars; Grain & Covered Hoppers; Gondolas; Coal, M-O-W, & Mineral Hoppers; Flat Cars; Coil Steel Cars;

Tank Cars; Refrigerated Cars, and AutoRacks on Flats

This book has 54 pages with 123 B&W photos

This book is spiral bound so it lays flat and has heavy duty,

full color, paper covers and is

8 1/2" tall and 5 1/2" wide.

Sample pages are below.

MSRP $19.99 + s&h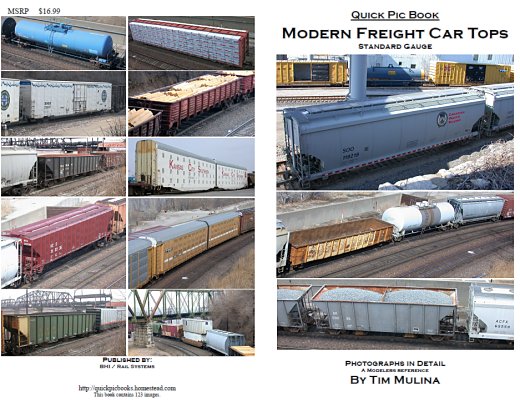 Below are a sampling of pages from the book.

Because of the actual USPS shipping costs, we highly recommend getting more than 1 book/title at a time. If there is no "Add-To-Cart" button on a specific title's webpage, contact us directly at:   sales@bhipubs.com

to add any of them to your order.